Did you think I'd disappeared?..... LOL, NEVER, it's just been a VERY long weekend and well today is the first day that we are at home..hahahahaha. We have been out and about since Thursday. Friday was a pub lunch with my dad that landed up being a "supper", hahahahaha, and well a very bad hangover on Saturday. We have visited friends and had lunches and been out for dinner. It's been a wonderful weekend.. but I think I need "another" just to re-coupe from this one.....LOL. I've had soooo much "catch up" to do this morning that I feel like I'm swimming upstream...LOL. So this post will be a longish(is there a word like that?...hahahaha) one.
I got my first kits in the store.. OH OH OH I was soooo excited to see it there.. just like a kid that's waiting for sleeping parents on Christmas morning and the presents are sitting under the tree shouting "open me"...heehee, it felt just like that! I re-did the whole of the
African Sunsets
kit as it was my first and it's very sentimental to me. It's got tons of new papers and elements in it..(told you I had a lot more in the "vault"..LOL). The other I loaded up yesterday so it should be available sometime today..
Shelbz Flutter

.
Its another "sentimental" kit and well this is the FULL version. You have the freebie link in one of the older posts.
What do you think? Please let me know.. you can visit the store via my link on the right hand side of my blog. ( Hahahahaha, I learnt how to "insert" blinkies....teehee..) PHew, I've had to learn a LOT of new things doing this and man I am loving every minute of it!.
There are TWO freebies here today... "WHAT"... is that what you said..? LOL.. well at DSO the designers get together and make up a MEGA kit.. ( and it is HUGE), It's called Tranquility and of course you get a freebie with it so you can see what it's all about. Here is the freebie preview and the link> Don't fortget the new challenges are up for May.. come and play with and recieve a free gift for every challange you finish as well as a MEGA kit for completing all of them..(and its a big one!!)
http://digital-scrapbooking.org/shop/index.php?main_page=product_info&products_id=311

And now mine... LOL, yes I made you all something, of course I wouldn't forget! I want to thank you AGAIN for all the wonderful comments on my blog and at 4shared.. I love you guys too. So I was thinking that with Mothers day coming up and yes I know there is a lot out there with "mothers day" kits... but what about "word art"... I LOVE word art... it just looks soooo cool on a LO or card or tag. So I made some for you from quotes that I had put together in a book for future use.. ( nearly forgot I had it...LOL).. I hope you enjoy them and tomorrow I have the "paper" that they are shown on with a tag that you can use to display them.. so remember to pop back tomorrow..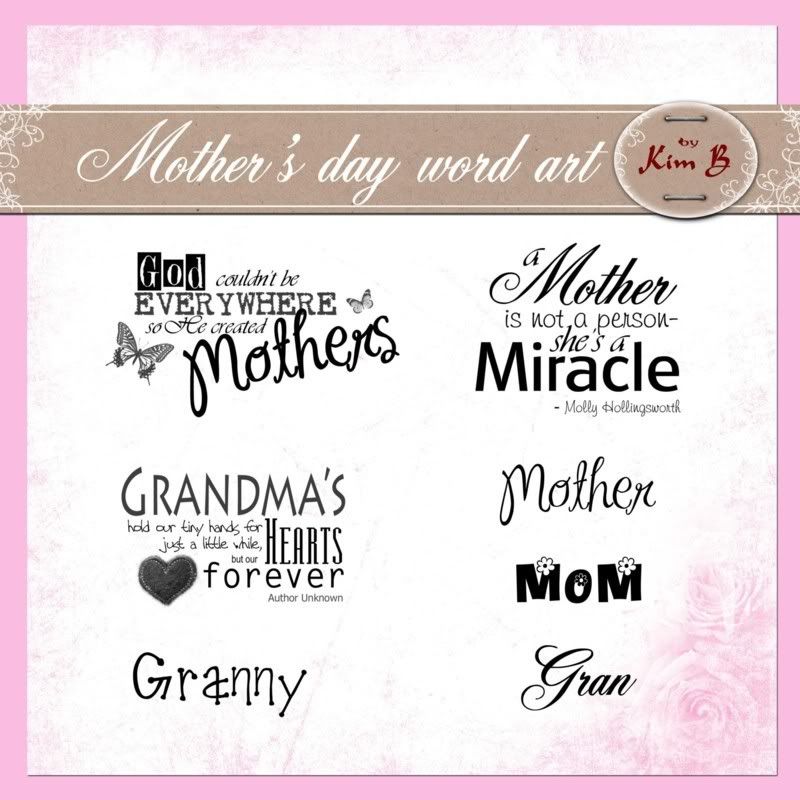 I think I worked out how to "click" and enlarge the pic now...LOL.. WELL I am hoping its going to work...hahahahahaha, can only check when it is published..LOL. OH, as you can see I added some for "granny's", because they are also "Moms"!!
sorry link is no longer available
Go and grab and please send me a link to your LO's.. or even better come put them up in the
DSO gallery..
it's sooo much fun seeing what others are doing and creating. Hugs to you all and I think I have written a BOOK here, so tomorrow it will be back to "short and sweet".. well not so sweet, but you know what I mean...LOL. Lots of Love, Kim.