Oh my WORD!!- I slept for over 2 hours yesterday afternoon!!! I NEVER do that-hahaha, it's always usually a half hour *powernap* and then I'm up- But I woke up 2 hours later!!! I was sooo 'deurmekaar' ( disorientated in English-I think,LOL)- and it took me till 6pm to wake up! Then at 11pm last night I was WIDE AWAKE!! hahahahaha ROTF!! But I went to bed and I woke up refreshed and full of it again this morning! YAY!!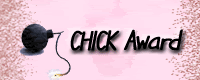 Have you seen this??? Oh MY Goodness-
Silvia
!!! You are the
BOMB Girl
!! Thank you soo soo much for this and for the FAR toooo kind words on your blog yesterday- It really made my evening- and the best was when Wayne got home I blurted out that I had just been called "Da Bomb" today- He like stopped in his tracks with the eye's that sort of go narrow and squinty and say's "BY WHO????" - ROTFLMAO- Oh
Silvia
I had such a laugh- when I said it was you- he just relaxes and goes "Oh that's cool"- hahahaha, MEN!!! He was waiting for a 'mans' name- hahahahahahaLOL- Thanks girl- I haven't been called a 'Bomb' in years! hahahahaha.
I know I have a couple of awards to 'redistribute' and I haven't forgotten- so I think I will do a post on Saturday morning *GASP*-hahahalol, before the rugby festivities begin so that I can hand them back out.
Melanie
- Your word art yesterday also just perked me UP!! I laughed, as that is soo something I would have said!!! It made me do a LO last night ( told you I was wide awake-hahahahaha) and if you remember the 'POSH' dress up photo's from the wedding (and our 18th Wedding Anniversary)-- Well lets just say I can never stay "
posh
" for long!! ROTFLMAO-
Credits. Michelle Yap-Swirl template, mmdcreations-word art, royanna fitschmann-overlay
PIMP- Oh Gee's-What was I thinking!!!- I'm actually showing these!!! ROTF!! But that
Word Art
was just tooo good not to use- and Oh goodness- ALL our photo's of ANY function have me with my bloody mouth open somewhere-hahahaha(including my wedding photo's!!)- Pay
Melanie
a visit for the most AWESOME word art!
And has RUGBY fever hit here HARD- you can't listen to the radio without hearing rugby- you can't watch TV without hearing rugby and your friends can't stop talking rugby!! This I received this morning- hahaha ( yeah my inbox is full of them- but in this one we sort of rip off the Australians again-)- we sooooo love to do that-hahahaha
As you know we play England in the final and Australia didn't make it and are sitting at home- hahahahaha- LOVE IT! Get ready for tomorrows RUGBY post! ROTF!! GO BOKKE
And today I made a template from my LO for you-
I just called it "Bling" as well I used a lot of that in my LO (*hee hee- yeah there's some new stuffies in the works*)- As always it's in JPG,PSD and in PNG for DIP users.
http://www.4shared.com/file/26774434/7b01f4cb/kb-Bling_template.html
Hope you have fun with it- Until tomorrow-Hugs and Loves Kim