What you got planned this weekend??- Well after last weekends 'celebrations' and next weekends big party *Uhum, yeah there's one LOL* I'm taking it EASY this weekend! I'm going to just spend some time outside in the sun, try read a bit(WAHAHAHA- laughing myself here!)- and just CHILL! hahahahaha. I do have a 'outfit-costume' to figure out for next weekend- it's a 'dress up'- and well we don't really celebrate Halloween here but I suppose the party would be in the same lines! *funny or scary*?- hahaha- I had a great idea for hubby but I don't think he'll have the *guts* to do/wear it though-hahaha, Said he could go as "Good enough to eat"- LOL- did I loose you?-hahaha, *little History*- Hubby LOVES to cook and play in the kitchen- and my friends and I always tease him and say he would be ' even better' in it if he just wore an apron- you know with nothing on underneath- ROTFLMAO- *getting a picture here?*, (like those wonderful hospital gowns-LOL), Well with a chefs hat and just a 'chefs' apron and a pair of tight Jockey boxers underneath and the words *good enough to eat* painted on the front- I think it would be a hit-hahahahaha ( and yeah-Lucky enough Wayne has a VERY TIGHT TOUSHIE-TV advert TIGHT!!)- HAHAHAHAHAHAHAHAHA. Oh Gee's he's going to kill me AGAIN- hahahaha- So if you guys have got any other ideas( and you know I like CLEVER-hahaha let me know)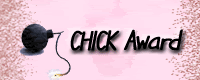 Silvia
made this AWESOME blinkie and I would like to hand it back out today-*will keep it short and sweet*
SILVIA
- I am returning this blinkie to YOU- girl you are the BOMB!! Loves ya tons!
JENNI
and
BONNIE
- Well here comes trouble-LOL. Two South African "bokkies" who are sisters! Both have AMAZING inspirational blogs as well as being 'great supporters'- to SA, to the digiscrap community and to me! YOUR THE BOMB guys! Hope you are having a wonderful weekend together! BE GOOD- yeah right! hahahaha
RUTHIE
- for your inspiration and your 'big warm hearted' way of 'giving back sooo much' to the digital community- I think YOU'RE a BOMB!!
And I know this person does not have a blog- and I know she has recieved a few awards too- but
OLGA
- I just want to tell you that YOU ARE THE BOMB! There is not ONE day that you don't leave me a comment and I look forward to them daily! I thank you from the bottom of my heart!
Well
Renee
sent me some of her Rugby Lo's and let me tell you SA is still celebrating- the boys are back in the country and the 'excitement' is still in the air-
She used my
BUG-ING kit
paper and the 'weathered cluster freebie'- But I WANT THAT SHIRT DAMMIT !!! LOL, You know that the rugby team is actually called
the Springboks
( a South African buck) but we all call them the
BOKKE
( Afrikaans for Buck)- and that shirt say's
I'm a BOKKIE
- which cleverly means "I'm a CHICK"- hahahahahaLOL. See -I love 'clever'- LOL.
And here comes mine- it's the first in the 'series'- I even made myself a new blinkie from it too
Just loved the 'line of green shirts'- hahahaha- Also used my BUG-ING papers and the colours of our National flag. And of course I made the freebie today from it too.
Been wanting to do a 'full lanscape' photo LO for a while now and this one suited it perfectly- Add your own elements and titles ect- but at least it's easier with the template-hahahaha( well I hope so).
http://www.4shared.com/file/27473188/2abce263/kb-proudly-Template.html
I hope you all have a FABULOUSO weekend and I'll chat on Monday again. Sending hugs and Loves Kim