Hi folks!  Bunny here, popping on to introduce you to a little something new we're going to be doing right here on Kims bloggity blog!
So we were talking the other day about how everything seems to be moving to facebook, and Kimmie mentioned she was missing all the interaction with the "public" and missing getting to see all the pages and things made with her goodies.  This caused a little light bulb (ok a BIG light bulb.  A SPOTLIGHT even!) to go off over my head.  *ding*
What we are going to be doing for a while is this…
Think "layout of the week" but on a wider scale, because it's not going to be tied down to any particular site.  Basically, each week (or two…) I am going to go on a hunt to find cute things made with Kim's products.  They may be a layout, a hybrid something or other, might even be another product – if they used her CU. 
The thing is, I am going to find something I like and feature it here on the blog for you to see!  What makes that so fun?  Well, if it's YOUR thing that gets picked – you're going to win something special from Kim.  As a "thank you" for showing off her goods!  Everyone else is going to win too, BECAUSE – if the product used in that weeks pick is available for sale still …  Kim's giving YOU ALL a discount coupon so you can grab it, too!!!!!!!!!
HOW TO GET PICKED:
This is how you are going to get picked.  It's easy! 
Whenever you post your creations using Kims products online, make sure the credit reads "by KimB Designs" somewhere in it.  You can post wherever you like, whether it be a gallery or your blog or even facebook!  I'm not just checking one site, I'm checking the ENTIRE WEB!!! 
**Here's the thing, if you are only posting to facebook – then just crediting isn't enough because google wont find it - you will need to post to Kim B Designs wall, too, or I will never find it! 
THIS WEEKS PICK:
Since this is the first week, I wanted to be fair to everyone and give you all time to get your latest and greatest creations online and FINDABLE… so, I am choosing one of Kim's CTs layout. 
For my first official pick, I am choosing this lovely page by PK Doll.  I just think it is beautiful.  The clustering work is stunning, and I love the masked out journaling spot.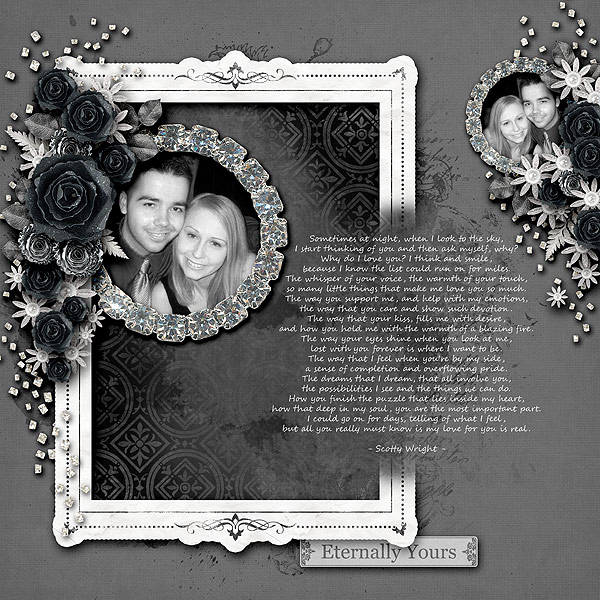 Not only did Mrs. Paula provide some gorgeous inspiration with this page, but she also gave a FREE QUICKPAGE of this very layout so all you have to do to recreate this page is pop in your photos and add some journaling!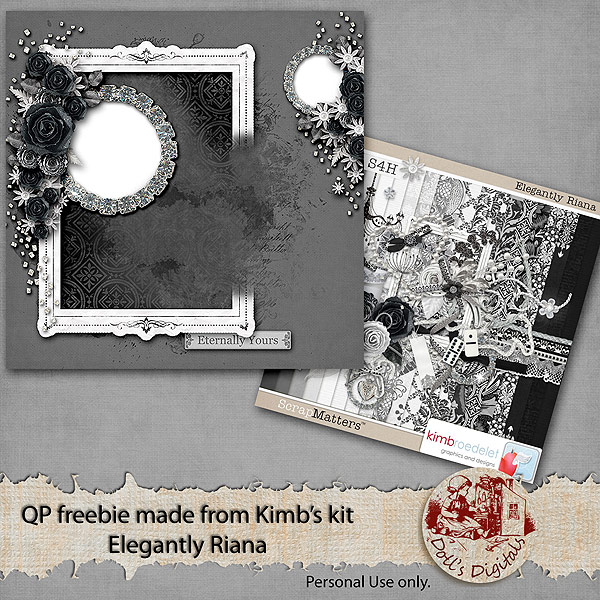 You can grab this quickpage, for FREE from Mrs Ps blog, right HERE
This gorgeous page features Kims kit called Elegantly Riana, available right now at ScrapMatters (here).   This kit is huge, and available as individual "packs" or as a bundle.
The Bundle, regular price $14.86, is currently on sale for $9.99 and since it's featured this week…  I'm giving you an extra 25% off coupon!   To take advantage of the discount, just put The Bundle in your cart and enter coupon code: KPP-wk1-ElRiBu  Now, this coupon expires Oct 23rd, 2011 so you only have through next SATURDAY to take advantage of this week's special!
This is going to be so fun, we can't wait to see your creations so get to posting!  Make sure you are crediting Kim or posting so I can find them!  Good luck!